Small Business Spotlight - Half Day Cafe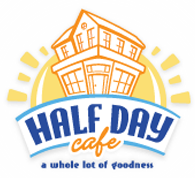 In 2018, Deerfield Township welcomed Half Day Café to its restaurant offerings at the corner of Wilkens Blvd and Irwin Simpson Road (8825 Wilkens Blvd).
The owners, Dale and Patty Hipsley, residents of Deerfield Township, have operated the original Half Day Café in the City of Wyoming for the past thirteen years. After living in the this area for a few years, they saw a need for a similar locally-owned, independent café that people could walk or bike to--the corner where they built is ideal.
"We are very excited to have a local business like Half Day Café in our community," said Economic Development Director of Deerfield Township, Jim Flick. "We are striving to bring more small businesses and local entrepreneurs, like the Hipsleys, who strive to make quality products available to our residents, visitors, and employees."
The restaurant offers both breakfasts and lunches which are a blend of expected standards with some unexpected surprises. The breakfast menu features the eggs, omelets, bacon and sausage, but also has Sweet Potato Pancakes, Mango Butter Rum French Toast and a delicious Egg Strata. For lunch, they offer homemade soups, salads and sandwiches, with items like the Pear Salad, Grilled Chicken and Brie Quesadilla, and their seasonal "melt" sandwiches.
The Deerfield location is the second location for the restaurant, with another located in the City of Wyoming, Ohio.
For more information about Half Day Café visit http://halfdaycafe.org/.