Pinnacle Lane at Bethany Road to be closed Permanently in Deerfield Township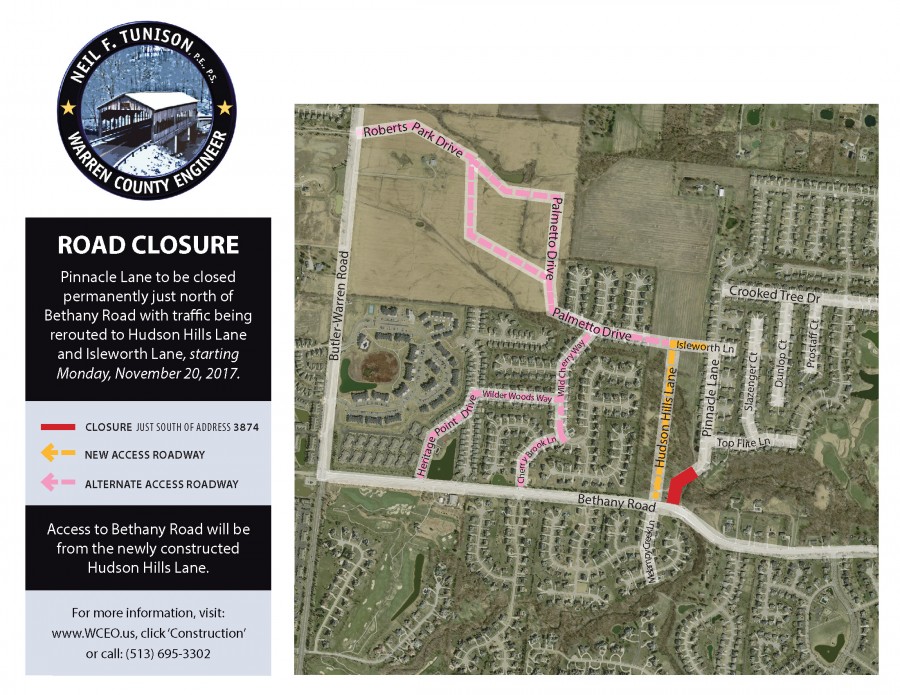 PRESS RELEASE
Lebanon, Ohio – Deerfield Township – The Warren County Engineer's Office will be closing Pinnacle Lane at Bethany Road permanently, effective Monday, November 20, 2017. Access to Bethany Road and Pinnacle Lane will be from the newly constructed Hudson Hills Lane and Isleworth Lane. Alternative access roadways available for use are Cherry Brook Lane, Heritage Point Drive, and Roberts Park Drive.
See attached road closure map for reference.
For more information, visit: www.wceo.us, click 'Construction' or call: (513) 695-3302.
The Warren County Engineer's Office encourages drivers to stay alert and take your time when out on the road. We consider it a privilege to serve Warren County, to maintain a safe county road system and to help you get around our beautiful county.
About the Warren County Engineer
County Engineers in Ohio are required by law to be registered as both Professional Engineers (P.E.) and Professional Surveyors (P.S.) They are responsible for the maintenance and construction of county roads and maintenance and construction of bridges on county roads, township roads, and certain streets within municipalities. They are also responsible for maintaining land surveying records, checking the accuracy and adequacy of recorded land transfer documents, and establishing or re-establishing certain land survey monuments.
Media Contact:
Savannah Shafer
Director of Communication
(513) 695-3302