Lily Drive Closure Update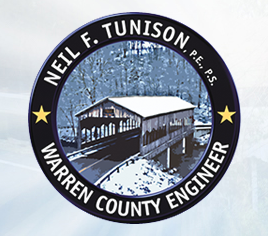 Lily Drive Closure Extended until Friday, June 19, 2020.
Lebanon, Ohio – Deerfield Township, Warren County, Ohio – The work on the Lily Drive bridge, over Stony Hollo between Rose Road and Lilac Road, has been delayed due to inclement weather and related construction delays. Lily Drive is expected to be opened back up to traffic by Friday, June 19th.
The detour for the closure will continue to utilize Old Mill Road, US 22/SR 3, Columbia Road, Davis Road, Primrose Drive, and Rose Road.
Thank you to the traveling public for their patience.
For more information, visit http://www.wceo.us/ or contact WCEO at (513) 695-3301.
Media Contact:
Chad Harville
Project Technician
(513) 695-7727
The Warren County Engineer's Office encourages drivers to stay alert and take your time when out on the road. We consider it a privilege to serve Warren County, to maintain a safe county road system and to help you get around our beautiful county.
About the Warren County Engineer
County Engineers in Ohio are required by law to be registered as both Professional Engineers (P.E.) and Professional Surveyors (P.S.) They are responsible for the maintenance and construction of county roads and maintenance and construction of bridges on county roads, township roads, and certain streets within municipalities. They are also responsible for maintaining land surveying records, checking the accuracy and adequacy of recorded land transfer documents, and establishing or re-establishing certain land survey monuments.