Fields-Ertel Road to Close for Three Days for Pavement Repairs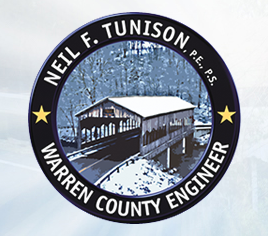 Lebanon, Ohio – Deerfield Township, Warren County, Ohio, Sycamore and Symmes Townships, Hamilton County, Ohio – Fields-Ertel Road, between Butler-Warren Road and Snider Road, will be closed for pavement repairs from 9:00 AM to 4:00 PM beginning Monday, August 2, 2021, for three (3) consecutive days, weather permitting.  The detour for the closure will utilize Butler-Warren Road, Irwin-Simpson Road, and Snider Road.
Following this closure, in the near future, one-way traffic will be maintained using flaggers while milling and paving operations are completed between Butler-Warren Road and 500' east of Snider Road. Traffic delays should be expected.
This pavement work will be completed by Barrett Paving Materials, Inc. and the project is funded by the Warren County Engineer's Office and the Hamilton County Engineer's Office.
For more information, visit http://www.wceo.us/ or contact WCEO at (513) 695-3301.
About the Warren County Engineer
County Engineers in Ohio are required by law to be registered as both Professional Engineers (P.E.) and Professional Surveyors (P.S.) They are responsible for the maintenance and construction of county roads and maintenance and construction of bridges on county roads, township roads, and certain streets within municipalities. They are also responsible for maintaining land surveying records, checking the accuracy and adequacy of recorded land transfer documents, and establishing or re-establishing certain land survey monuments.
Media Contact:
Chad Harville
Project Technician
513-695-7727