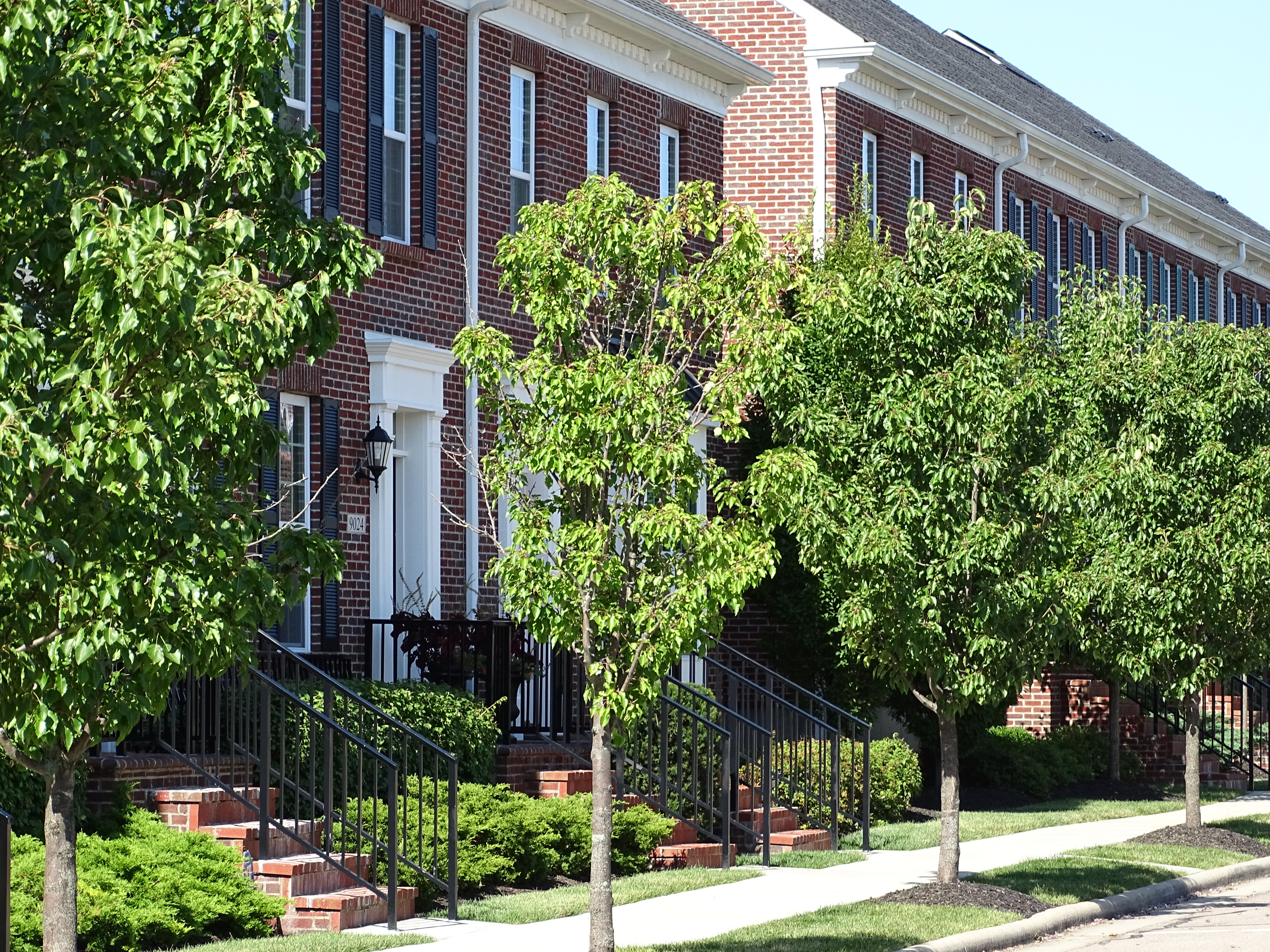 Cost of Living
Overall the cost of living in the Cincinnati Metropolitan Area is 9% below the national average making it an affordable, amenity rich location to reside in.
The median gross rent in Deerfield Township is $1,164
The median home value in Deerfield Township is $228,100
No Local Income Tax
As a township in the State of Ohio, Deerfield DOES NOT HAVE a local income tax.
Fiscal Responsibility and Exceptional Services
After any rollbacks, exemptions, credits, etc., Deerfield Township typically receives about 17.5% of total annual property taxes for its operations - a figure which includes all levies. Those funds go to operate fire, police, public works (roads), cemeteries, parks, zoning, and any other functions assocated with a large suburban township. The remaining 82.5% of what residents pay in property taxes goes to the schools, the county, and any other special assessments, such as a lighting district to fund street lights.
The township is continuously exploring and uncovering outside funding sources and grant opportunities for projects and improvements, where available and appropriate. This approach to operations works to stretch every tax dollar, and in some cases, leverages local resources against matching outside dollars to fund improvement projects.
Jim Flick, Economic Development Director and Public Information Officer
Contact Information
Experience
Jim Flick joined Deerfield Township as Economic Development Director and Public Information Officer in July 2018. His main job duties include cultivating and maintaining close working relationships with relevant economic, community, and workforce development partners in Southwest Ohio to facilitate a collaborative framework for business recruitment and retention activities. He also serves as the primary public relations and communications official for the Township.
Mr. Flick has over 11 years' experience in data analytics, research, communications, project management and public affairs within government, real estate, and legal settings.
Prior to joining Deerfield Township, Mr. Flick spent two and a half years at the City of Cincinnati's Department of Community and Economic Development as a Development Officer within the Major Projects Division and was an Interim Division Manager of its Policy and Communications Division. He also spent five years at the commercial real estate firm Cushman and Wakefield, most recently as the Vice President of Research and Marketing.
Mr. Flick is currently an Adjunct Instructor for the Masters of Public Administration program at Northern Kentucky University, where he earned his Master's Degree in 2010. He also has a Bachelor's Degree in Political Science from Eastern Michigan University.
Mr. Flick believes in government information transparency and in public engagement as a means to guide development activities in a smart and sustainable way.
Major Projects Map
Below is a map showing major economic development projects and infrastructure projects that have been recently completed, under construction, or planned. Hover over the icon to learn more about each project.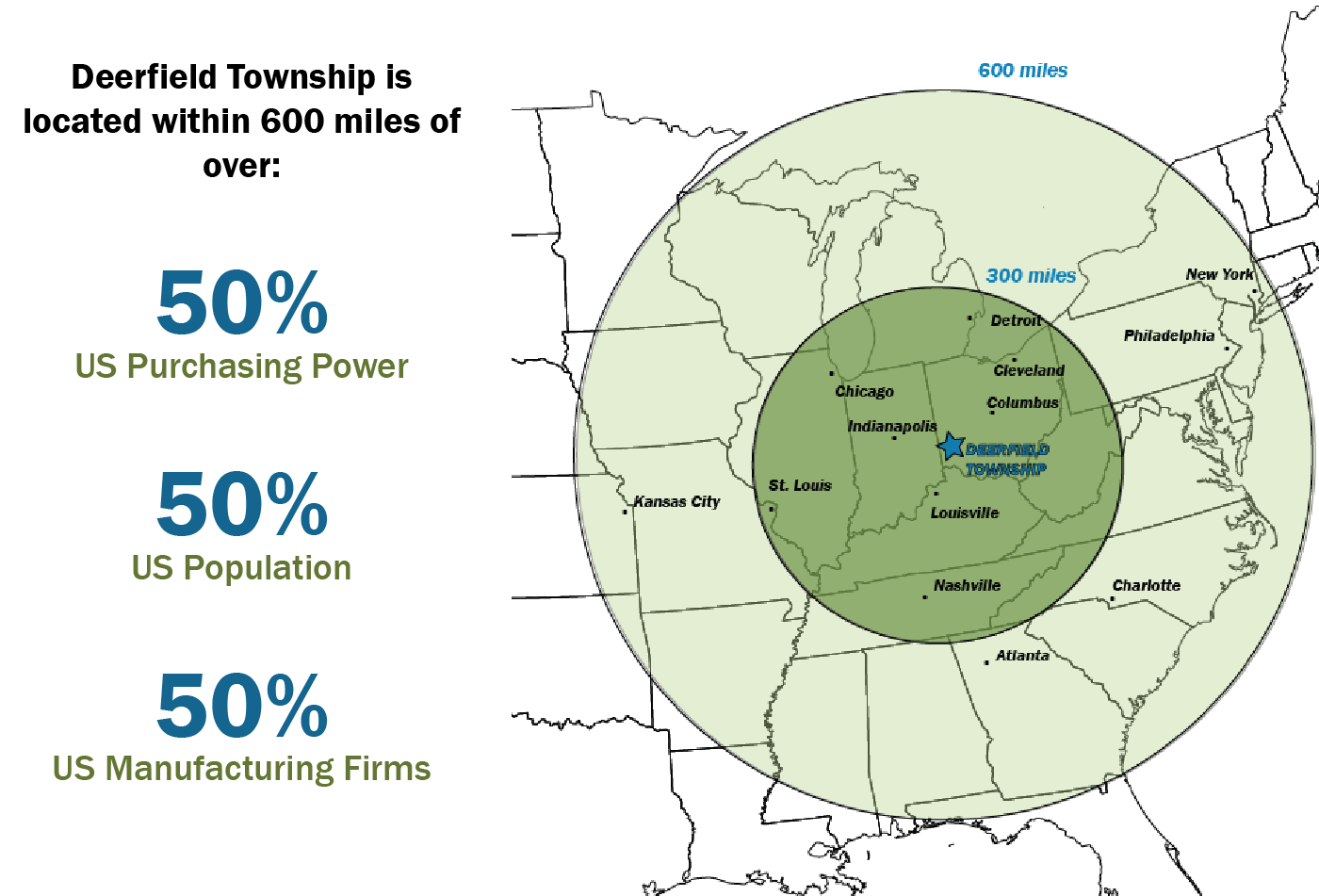 Deerfield Township is strategically located in the southwest corner Warren County sharing borders with both Hamilton and Butler Counties.  
Conveniently situated between Cincinnati, Columbus, and Dayton, Deerfield Township is located directly on Interstate 71 with three major interchanges feeding our business, retail, and entertainment community. The township is also just one mile from Interstate 75 and three miles from Interstate 275. This strategic location puts the township within 600 miles of over 50% of the United States purchasing power, population, and manufacturing firms.
Want to see a closer look at the township's location? Map us on Google.
Township Incentives and Services
Tax Increment Financing (TIF)
Sale of Township Property
Site Selection Assistance
Business Development Assistance
Workforce Development
Zoning Assistance
Infrastructure Support
Network Development

In May 2019, Deerfield Township approved the creation of a Community Improvement Corporation (CIC) to manage economic development activities.
CICs were established by the State of Ohio General Assembly in 1961 under Senate Bill 299 and are currently defined under the Ohio Revised Code (ORC) 1724.
CICs essentially are non-profit economic development corporations created for the following purposes:
Advancing, encouraging, and promoting the industrial, economic, commercial, and civic development of a community.
According to Chapter 80 of the Ohio County Commissioners Handbook, "CIC's assist with the promotion and financing of economic development by providing loans to individuals and businesses; buying, selling, and leasing real and personal property for economic development purposes; and, by entering into contracts with the state and local governments."
By creating a CIC for economic development purposes, Deerfield Township is better able to control (re)development activity throughout the township.
The Deerfield Township CIC is guided by an Economic Development Plan and the following mission:
Facilitate collaborative, strategic, and sustainable economic development in Deerfield Township that improves the lives of residents, increases business investment, and promotes the Township as a thriving and vibrant place to call home.
If you are in locating or expanding your business in Deerfield Township or interested in potential development opportunities please do not hesitate to contact Jim Flick, the Economic Development Director at 513.770.2386.
Deerfield Township is a great place to live, work, shop, learn, and play.  Our community provides a variety of housing options and a strong education base with public schools that are among the top ranked in the State of Ohio. Deerfield has lively daytime population and plenty of amenities in our retail and entertainment areas. Our parks are among the best in the region whether you are looking to walk your dog, play a pick up game of tennis or basketball, participate in organized sports, or just enjoy the outdoors.
County and State Tax Credits
Job Creation Tax Credit
DataCenter Tax Abatment
Job Retention Tax Credit
Research and Development Investment Tax Credit
Sales and Inventory tax Exemptions
District at Deerfield:
Silverman and Company is developing a 28-acre property between Mason-Montgomery Road and Wilkens Boulevard, just south of the township's Deerfield Towne Center into 95,000 square feet of street level retail and restaurant space, plus 362 apartments. When complete the District at Deerfield will offer a unique, urban-style, pedestrian-friendly environment for visitors, residents and employees.
Population

Total Population
38,217
YOY Population Growth
1.4%
% Male Population
49.2%
% Female Population
50.8%
Median Age
36
 
 

Income

Average Household Income
$113,360
Median Household Income
$83,023
Average Earnings
$86,767
Per Capita Income
$42,277
 
 

Labor Force

Total Labor Force
20,547
Labor Force Participation Rate
72.2%
Unemployment Rate
2.8%
 
 

Employment by Industry

Accomodation and Food Service
6.0%
Administration and Support
1.9%
Agriculture, Forestry, Fishing, Etc.
0.3%
Arts and Entertainment
1.6%
Construction
2.8%
Educational Services
10.2%
Finance and Insurance
7.5%
Health Care and Social Assistance
11.8%
Information
2.1%
Management of Companies
0.3%
Manufacturing
16.6%
Other Services, Except Public Admin
4.1%
Professional, Scientific, and Technical
13.4%
Public Administration
1.3%
Real Estate, Rental and Leasing
1.5%
Retail Trade
11.9%
Transportation and Warehousing
3.3%
Utilities
0.5%
Wholesale Trade
2.9%
Source: US Census Bureau, American Acommunity Survey 2017 - 5yr Estimates
State of Ohio Loan and Grant Programs
Research and Development Investment Loan Fund
166 Direct Loan
Ohio Enterprise Bond Fund
Innovation Ohio Loan Fund
Roadwork Development (629) Funds
Ohio Investment in Training Program
Largest Employers
Deerfield Township is the primary economic driver for Warren County with over 1,000 companies employing over 23,000 employees. These companies span across many business sectors and range in sizes from small firms to large, multinational corporations.
The largest employers in the township include:
Anthem
Macy's Credit and Customer Service
Cengage Learning Inc.
Atos IT Solutions
General Revenue Corporation
MedPlus Inc. (A Quest Diagonistics Company)
Down Lite International
Mercy Health Partners
Clopay Corporation
Apex
Neo Tech
Below is a breakdown of the types of businesses in Deerfield Township:
JobsOhio Loan and Grant Funds
JobsOhio Economic Development Grant
JobsOhio Growth Fund
JobsOhio Research and Development Grant
JobsOhio Revitalization Program
JobsOhio Workforce Grant
Educational Attainment
| | |
| --- | --- |
| Graduate Professional Degree | 21.9% |
| Bachelor's Degree | 35.9% |
| Associate's Degree | 8.1% |
| Some College | 15.2% |
| High School Graduate | 15.5% |
| 9th - 12th Grade (No Diploma) | 2.3% |
| Less than 9th Grade | 1.0% |
Source: US Census Bureau, American Acommunity Survey 2017 - 5yr Estimates
Higher Education
Deerfield Township offers a well educated workforce with nearly 66% of its population over 25 years old holding at least an Associates Degree. Furthermore, there is access within 50 miles of a robust network of colleges and universities including the University of Cincinnati, Cincinnati State, University of Dayton, Miami University, Mount St. Joseph University, Northern Kentucky University, Ohio State University Butler County Extenstion, Sinclair College (Mason and Main Campuses), Wright State University and Xavier University. Collectively, these schools have a total enrollment of over 158,000 which produces a deep talent pool for companies to get the next generation of well educated and talented employees.
Total Enrollement by Institutions Within 50 Miles
| | |
| --- | --- |
| University of Cincinnati | 45,300 |
| Sinclair College | 32,000 |
| Miami University | 19,700 |
| Wright State University | 16,600 |
| Northern Kentucky University | 14,500 |
| Cincinnati State | 11,200 |
| University of Dayton | 10,800 |
| Xavier University | 6,500 |
| Mount St. Joseph University | 2,000 |
Source: US Census Bureau, American Acommunity Survey 2017 - 5yr Estimates
K-12 Education
Most of Deerfield Township is located in the Kings Local School District and Mason City School District.  In a recent study from US News and World Report, both districts were ranked in the top 40 High Schools Rankings in the state of Ohio.
Deerfield residents also have the option to attend the following schools:
Montessori Academy of Cincinnati
Princeton City School District
Saint Margaret of York
Saint Susanna
Liberty Bible Academy