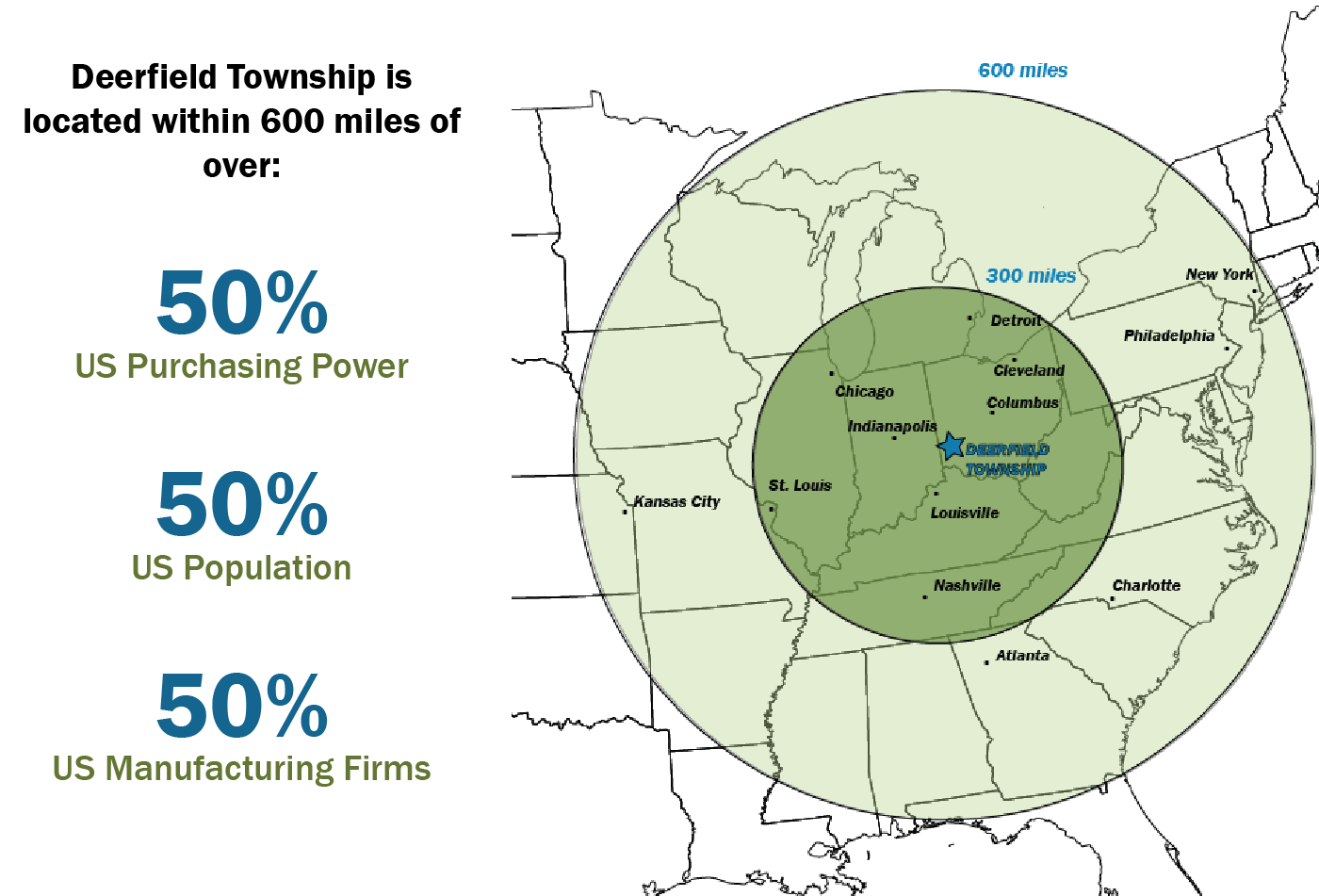 Deerfield Township is strategically located in the southwest corner Warren County sharing borders with both Hamilton and Butler Counties.  
Conveniently situated between Cincinnati, Columbus, and Dayton, Deerfield Township is located directly on Interstate 71 with three major interchanges feeding our business, retail, and entertainment community. The township is also just one mile from Interstate 75 and three miles from Interstate 275. This strategic location puts the township within 600 miles of over 50% of the United States purchasing power, population, and manufacturing firms.
Want to see a closer look at the township's location? Map us on Google.
Deerfield Township is a great place to live, work, shop, learn, and play.  Our community provides a variety of housing options and a strong education base with public schools that are among the top ranked in the State of Ohio. Deerfield has lively daytime population and plenty of amenities in our retail and entertainment areas. Our parks are among the best in the region whether you are looking to walk your dog, play a pick up game of tennis or basketball, participate in organized sports, or just enjoy the outdoors.
Demographic & Income Profile
Largest Employers
Deerfield Township is the primary economic driver for Warren County with over 1,000 companies employing over 23,000 employees. These companies span across many business sectors and range in sizes from small firms to large, multinational corporations.
The largest employers in the township include:
Anthem
Macy's Credit and Customer Service
Cengage Learning Inc.
Atos IT Solutions
General Revenue Corporation
MedPlus Inc. (A Quest Diagonistics Company)
Down Lite International
Mercy Health Partners
Clopay Corporation
Apex
Below is a breakdown of the types of businesses in Deerfield Township: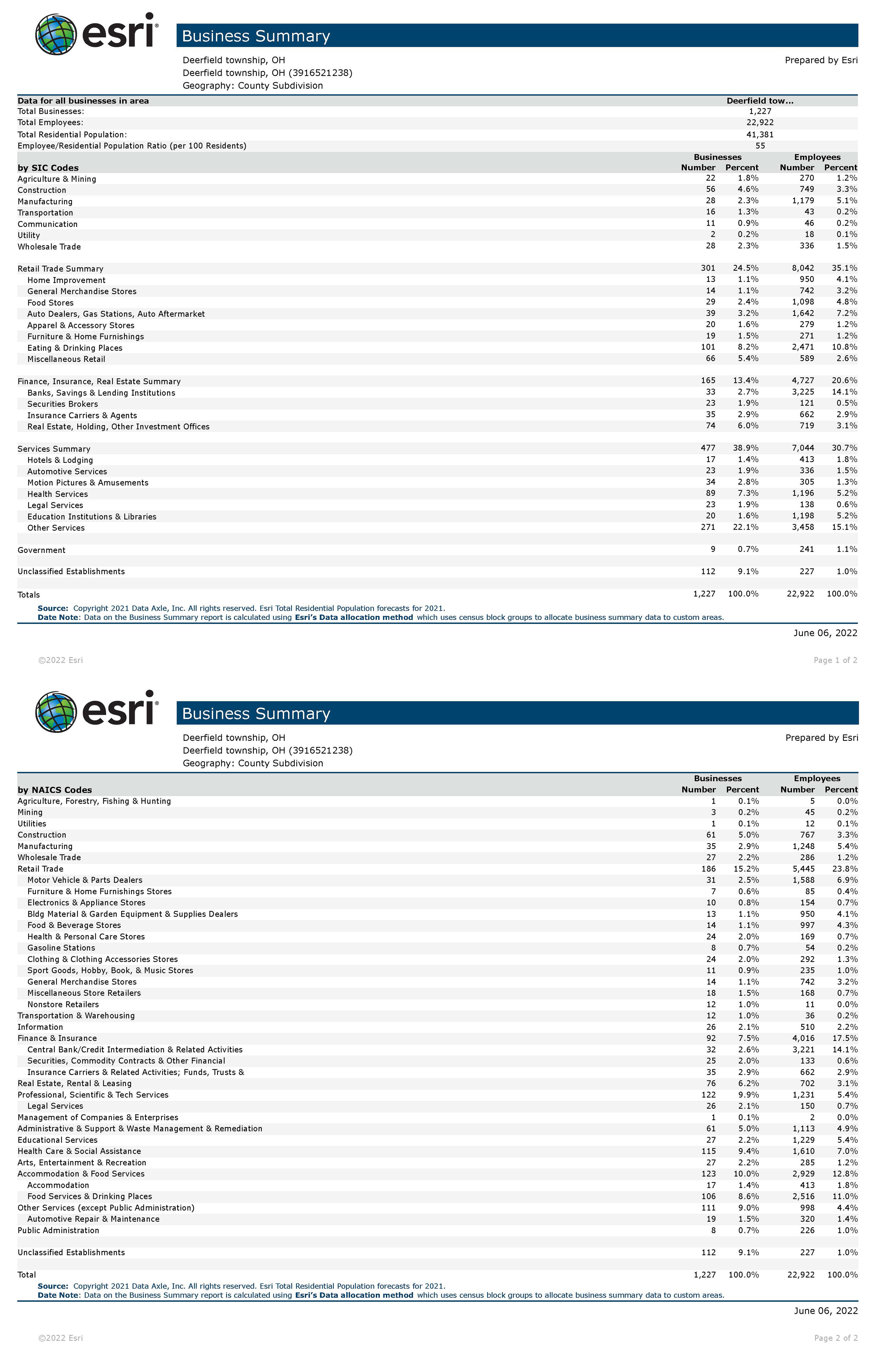 Civilian Labor Force Profile
Educational Attainment
| | |
| --- | --- |
| Graduate Professional Degree | 24.8% |
| Bachelor's Degree | 37.8% |
| Associate's Degree | 7.7% |
| Some College | 13.0% |
| High School Graduate | 14.5% |
| 9th - 12th Grade (No Diploma) | 1.6% |
| Less than 9th Grade | 0.6% |
Source: US Census Bureau, American Acommunity Survey 2019 - 5yr Estimates
Higher Education
Deerfield Township offers a well educated workforce with nearly 66% of its population over 25 years old holding at least an Associates Degree. Furthermore, there is access within 50 miles of a robust network of colleges and universities including the University of Cincinnati, Cincinnati State, University of Dayton, Miami University, Mount St. Joseph University, Northern Kentucky University, Ohio State University Butler County Extenstion, Sinclair College (Mason and Main Campuses), Wright State University and Xavier University. Collectively, these schools have a total enrollment of over 158,000 which produces a deep talent pool for companies to get the next generation of well educated and talented employees.
Total Enrollement by Institutions Within 50 Miles
| | |
| --- | --- |
| University of Cincinnati | 45,300 |
| Sinclair College | 32,000 |
| Miami University | 19,700 |
| Wright State University | 16,600 |
| Northern Kentucky University | 14,500 |
| Cincinnati State | 11,200 |
| University of Dayton | 10,800 |
| Xavier University | 6,500 |
| Mount St. Joseph University | 2,000 |
K-12 Education
Most of Deerfield Township is located in the Kings Local School District and Mason City School District. In a recent study from US News and World Report, both districts were ranked in the top 40 High Schools Rankings in the state of Ohio.
Deerfield residents also have the option to attend the following schools:
Montessori Academy of Cincinnati
Princeton City School District
Saint Susanna
Liberty Bible Academy