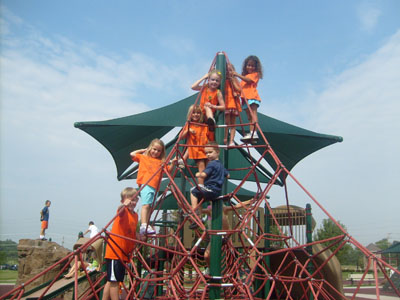 Safety Town
Safety Town is an exciting interactive day camp for children ages 4 – 6 years old. This one week experience gives children the confidence and knowledge they need to be safe at home and during the beginning of their first years in school. Each day introduces a new theme while building on skills through creative hands on learning. Our trained counselors help solidify these lessons by making safety fun and meaningful.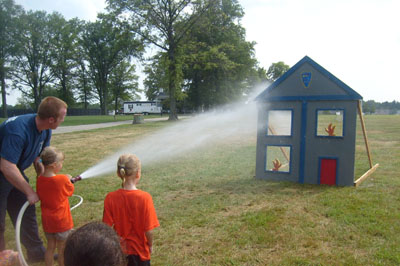 What Your Child Will Experience
Each day begins by getting the creative energy flowing in the art room while we wait for everyone to arrive. On the first day of the week the children are assigned counselors and remain in the same group for the entire week building their comfort and confidence. Once everyone is there all the groups are escorted to the main room for a special guest speaker covering the theme of the day. Themes include Police Officers Are Our Friends, Bicycle Safety, Pet and Animal Safety, Bus Safety and Fire Safety.
After listening to the guest speaker the children rotate through five different stations. These stations remain constant throughout the week except for Friday. Each station usually lasts approximately 15 minutes and reinforces their skills as well as a much needed energy outlet. Each group rotates through every station once each day.
The day concludes when all of the groups have rotated through each of the stations and we all meet in the main room. Our helmets and snack bags are gathered and we talk about what we learned from our guest speaker concerning the theme for that day. Goodie bags are given out that contain a reward and information focused on the theme of the day. Children are then released to their parents as we eagerly await the next day of fun and learning about safety.
Registration Information
Four sessions of Safety Town are offered in June each year; registration begins on May 1st for Deerfield Township residents.
Deerfield Township residents are eligible to register their children in any one of the four sessions offered at no cost. Safety Town has limited availability and we would like to provide everyone with the same opportunity to be a part of this event. 
For more about Safety Town dates and registration please go to DeerfieldRec.com.
If you have any questions, please email Michael Dulovich at mdulo@deerfieldtwp.com.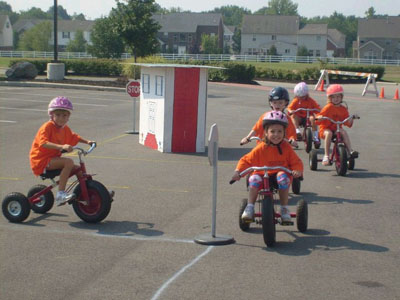 Themes
Monday: Bike Safety
Tuesday: Police Officers are our Friends  
Wednesday: Bus Safety 
Thursday: Pet Safety
Friday: Fire Safety
Daily Stations
Station One: Safety Town Tricycles
Children practice riding their tricycles through the streets of Safety Town. Wearing their bicycle helmets they learn hand signals and the rules of the road.
Station Two: Snack Time
After navigating the streets of Safety Town safely it is time for a snack. Children bring a light snack while they rest and watch a safety video geared toward the theme of the day.
Station Three: 9-1-1 Phones
This is where the children learn to dial 9-1-1 and talk to a live (counselor) operator. We practice writing out our name, address and phone number then call 9-1-1 and repeat our information so the operator can send help.
Station Four: Playground
After saving the day by calling 9-1-1 it is time to celebrate and play on the playground while practicing all of our safety rules.
Station Five: Creative Art
The theme of the day is expressed in your child's